It's All About The Shoes 
A closer look at some of the detail on my shoes also the inspiration behind them and few of the many ways in which they have been used.
Black Velvet
A knights armour was the inspiration for Lady Knight,  it is a fusion of the delicate but powerful.  
A sturdy but richly coloured material and the shielding and strength of armour which is emblazoned with gems.  The footwear of an elegant warrior maybe!  
_____________________________________
Holiday
The summer themed shoe Holiday is a grand day out with many happy beach related images, sunshine, ice cream, sea and sand.  
The instep partially hides a galleon sailing into a starry night at the end of the day maybe with the pirates from the sand castle.  Holiday was basically designed as a carefree cheerful holiday memory shoe.
______________________________________
The Harvest shoe design was inspired by Laurie Lee's book Cider with Rosie set in a Cotswold village in England not long after the end of the First World War hence the ever present poppy in the field.
The seasonal haymaking or harvest gave me the idea for the shoe, a warm summers day when harvest had finished and a picnic could be shared although the fare might not have been so resplendent back then.  I wanted to portray the feeling of satisfaction and warmth at the end of a hard days work in a country style shoe.
         _____________________________________
The Highland Christmas shoe is a combination of an ancient tartan and an age -old brooch design.  
The design was inspired by the beautiful Celtic penannular brooches, penannular basically means an incomplete circle or ring.  The brooches have a moveable pin which holds the folds of cloth in place although you can get different fastening variations.  The tartan I have used is the ancient Scottish Keith Clan tartan which my family apparently had connections to long long ago. 

I have designed the brooch so that the fastening method (which is quite different from normal brooches) can be shown.
_________________________________
Gossamer Slipper
With the Gossamer Slipper I wanted a shoe with impact for Halloween but not over crowded with images as you will agree there are many objects that can represent Halloween.  I decided to use four of the main images that represent Halloween which I placed in an autumnal/fall setting. 
I chose a minimal design where the unoccupied space is as important as the filled areas.   A space left empty can be as interesting as one filled with images or objects the Japanese call it yohaku no bi and is described as "the beauty of remaining white," I have also used the concept in a few of my other designs. 
_______________________________________________________________ 





Shoe Travels…
My shoe illustrations have had many different uses in a variety of countries over the years, for example the Boogy Shoe and Hot Boogy have both been used by various international singing groups over the years and also the Krewe of Muses in New Orleans Mardi Gras for their Musicology theme.  As someone once said it's just made for music! 
The Lady Knight is a logo for a boutique in Sweden and Harlequin for a book cover.  The embroidered designs are used extensively for craftwork projects and continue to to be very popular.
Below are a few examples of the ways they have been and are being used today.
There are eleven Sally King Design Cross Stitch patterns are now available with more to follow very soon.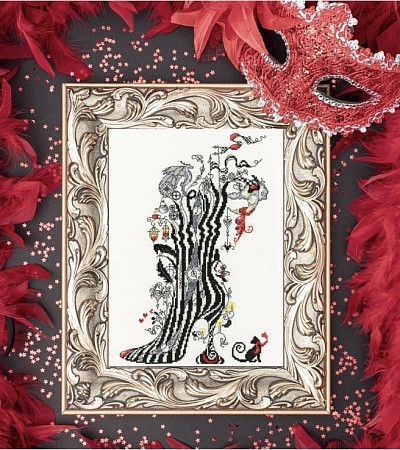 Rêver




The patterns can be purchased from Bothy Threads or from many well known craft outlets.
Digitised Embroidery Designs by BFC Creations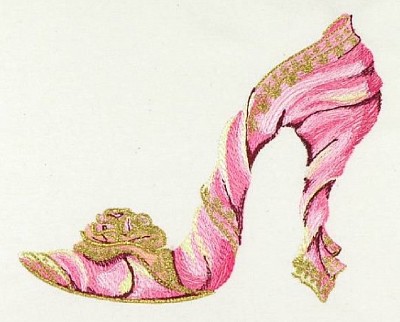 BFC Creations Digitised Machine Embroidery - Silk Slipper
BFC Creations of Massachusetts, USA continue to do a magnificent job of digitising my shoe designs for machine embroidery which people use for many interesting items and I am still amazed at the ideas people come up with, like I always say you are only limited by your imagination.  
Quilt and cushion designs are one of the items that people often use my shoes for, there have been many gorgeous quilts produced over the years using the shoes digitised for machine embroidery by BFC Creations.
Giuliana Ricama Needlework Magazine
The Pietrasanta Ricama Guild of Embroideres in northern Tuscany used my Tropical shoe design for one of their projects which was then was featured in an issue of the Italian Needlework magazine Giuliana Ricama.  The magazine focuses on needle lace and other Italian needle art crafts.
Sally King Design article in Giuliana Ricama
Harlequin Shoe - Book Cover
Book Cover
Belgium based, Philippe Olislagers contacted me a while ago asking if he might use my Harlequin shoe on the cover of his book saying it best illustrated his concept.  The book HISTOIRE FONDEMENTS & CONCEPTS De la CORPORÉITÉs is a science publication on corporeity for psychomotor professionals & students.  I was more than pleased to oblige as I find it very interesting knowing the stories behind people's choices, the more unusual the better.